According to data from Statistica (2021), the share of e-retail sales escalated from 7.4% in 2015 to 18% in 2020 and they are expected to reach up to 21.8% in 2024. If you ask me, I think those predictions are conservative after the changes we've seen due to the recent pandemic. Therefore, if you haven't already launched an online store for your business, you may as well start it, as you may be losing lots of customers.
Ok, let's say that you are convinced that launching your store right now is a good idea because of the info I've just presented to you. Now what's the next step? Well, here it comes. It's probably the most time-consuming decision: which platform should I use to set up my store online? By just Googling 'e-commerce platform' you'll find more than 20 different alternatives like Shopify, Wix, Woo or Mercadoshops and Tiendanube (if you are based in Latam). Nevertheless, in this article I'll talk about one of the most interesting e-commerce platforms: Salesforce Commerce Cloud.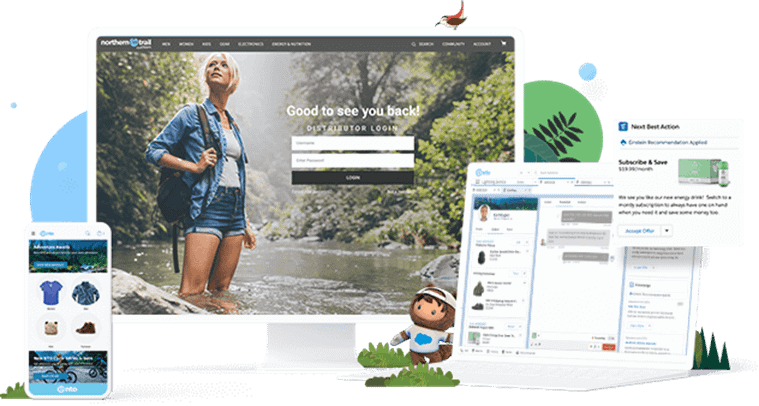 What's Salesforce Commerce Cloud?
Commerce Cloud is one of many products offered by Salesforce, the leader company (as for market-share) in the CRM platforms market. Commerce Cloud is a cloud-based product (meaning you won't need to install any software to manage it) that provides multiple tools to set up your online store (or stores) no matter if your business is B2B, B2C or B2B2C.
With Commerce Cloud you'll be able to customize your customers' buying experience, save important data about their preferences, engage with them with targeted promotions and much more.
Even though it is offered by one of the best CRM platforms there is, and it has many interesting features included, there's plenty of fish in the sea of e-commerce platforms, so is it worth it? Is it the best fit for your business? Let's try to answer this question by going through 5 key characteristics we need to look for in every e-commerce platform: Customization, Integrations, Ease of Use, SEO and Pricing.
How customizable is Commerce Cloud?
Going from the way you present your products and promotions on your store up to the checkout process and the payment methods you accept, everything is customizable in Commerce Cloud. One of the most interesting features it has is the possibility of showing certain elements or pages of your site to specific audiences defined by you. For example, you can show a special promotion only for audiences located in Canada.
However, in order to take the most out of these customization possibilities, you'll need to be very familiarized with Flows, Integrations and Lightning Web Components of Salesforce.
So as to see some examples check Quiksilver's website or Columbia's.
What about Commerce Cloud integrations?
If you are familiar with Salesforce as a CRM, then you surely know about Appexchange, the marketplace for proven apps that can help you extend functionalities or set integrations with third-party systems. Well, there are some interesting options to implement in your store as well. Are there a lot of options? Not really, but they are all proven and tested before being available so you won't come across any unpleasant surprises.
When setting a B2C store you have the option of developing or implementing cartridges, which are containers for packaging and deploying program code and data. You can use a cartridge to extend business functionality or to integrate with external systems. Using cartridges the possibilities are endless since you can develop a cartridge by yourself integrating your store with any other system you'd like to.
Is Commerce Cloud easy to use?
In my own personal experience, I find it quite challenging to set up Commerce Cloud Stores properly. Salesforce provides a guide to do it, there is documentation available and its UI is helpful but it's still a long way for any person new to the Salesforce world. If you think about it, it's predictable, since this platform allows you to customize almost everything in your store. With a higher level of customization you need a higher level of knowledge.
In order to have a functional store you have to create products, at least one catalog, one price book, define prices and promotions, relate them, set up tax, shipping, inventory and payment integrations and, finally, design the checkout flow (Salesforce provides a sample for you). This is a whole lot for somebody that's starting from scratch with Salesforce so I can fairly say that, if you're not already in Salesforce's ecosystem, then Commerce Cloud isn't easy to use.
SEO with Commerce Cloud
SEO is key for any website nowadays and your store isn't an exception. Commerce Cloud provides several tools for you to improve your store's Search-Engine Optimization. One of the most important ones is the customization of each page's URL, which will considerably improve your performance.
You will also find the possibility to generate and modify your 'sitemap.xml' and 'robot.txt' files, modify head tags to include codes like Google Tag Manager's, insert alt text to all images in your website or even modifying error pages.
There are some downsides regarding SEO in Commerce Cloud but they are very specific and refer to things you may not need: there's no possibility of editing a '.htaccess' file, there aren't common plugins we can usually find in other platforms, etc.
How much is Salesforce Commerce Cloud?
If you have a look at their website, you'll see that the prices aren't that high and all of them depend on your sales. Therefore, no selling no paying and everyone is happy.
For B2B Commerce editions pricing goes from USD 4 up to USD 8 per order, and for B2C and B2B2C Commerce editions pricing goes from 1% up to 3% Gross Merchandise Value.
Nevertheless, remember what we talked about customization and integrations? Well, none of them will work well if you don't have the knowledge to manage them. Therefore, you're most certainly obligated to hire people who know about Lightning Web Components, Javascript, apex, and more. Hence, the pricing you see on Salesforce website is just the tip of the iceberg and we haven't even talked about buying apps or components through Appexchange.
Comparison
Using a scale from 'A' to 'D', being 'A' the best score and 'D' the worst one, I'm sharing this comparative table to measure Salesforce Commerce Cloud against alternative platforms like SAP's Hybrid, Shopify and Tiendanube.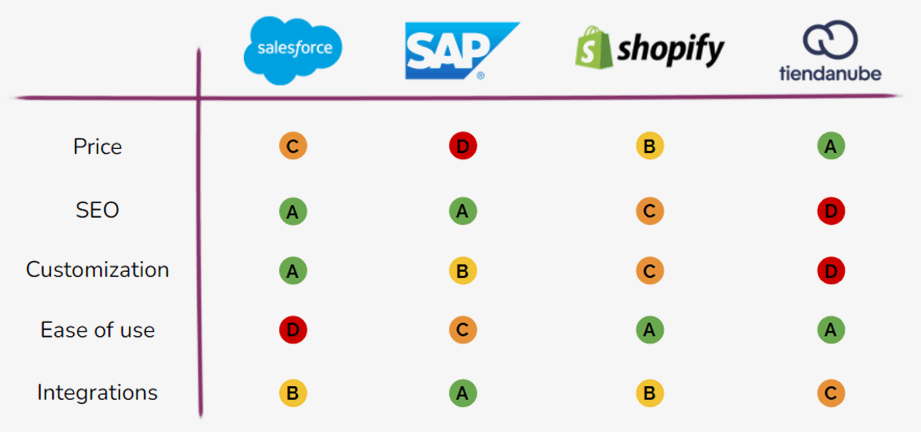 Conclusion
After this analysis and all this reading (or just scrolling), I think that If you're not already running your business on Salesforce CRM, then Salesforce Commerce Cloud probably won't be the best way to go. The path to taking full advantage of this platform will take much more time than setting up a store in Shopify and will be much more expensive. Also, if you have a tight budget, then you should consider more economical ones like Shopify, Tiendanube or any other of the kind.
Salesforce Commerce Cloud is a great option for companies that already use Salesforce CRM (+150,000 businesses) since the info will be all in the same system 'speaking the same language'. Commerce Cloud will take the data you already have and generate more valuable information on top of that (Orders, Catalogs, Carts, Leads, Customers preferences and so on). Plus, businesses that already use Salesforce will surely have a team of developers able to customize the store in hundreds of different ways and to make the most out of this product. Salesforce Commerce Cloud will be the cherry on top for your business and you'll be proud of the decision you've made.